India Pistons Limited (IPL) is the oldest and one of the largest producers of Pistons, Piston Rings, Gudgeon Pins & Cylinder Liners and allied components in India.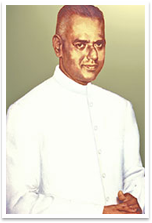 Anticipating the auto-component revolution in India, IPL was formed by the late Visionary Mr. S. Anantharamakrishnan way back in July 1949. IPL not only became the First and exclusive auto-ancillary production house in India, but continues to maintain its pre-eminent position by working in close collaboration with domestic OEMs, helping them set a firm footing in their engine development initiatives.
India Pistons is one of the flagship companies of the highly successful Amalgamations Group. The company maintains its leadership position in the domestic automotive market and expands its customer base by consistently scaling up its engineering prowess and performance standards.
IPL continues to be the 'top-of-the-mind' choice of majority of domestic OEM's due to its Path-breaking innovations in product design and need-specific enhancements in production processes.
In its successful journey spanning over 6 decades, IPL has established world-class benchmarks of engineering excellence through its robust adherence to quality-oriented processes, wide range of application-specific products, and application of cutting-edge technologies. This in turn has helped maintain enduring customer relationships by consistently delivering value.
IPL's major OEM customers include Hyundai Motor Company, Maruti, Ashok Leyland, TATA Motors, Eicher Motors, Simpsons & Co., TAFE, Mahindra & Mahindra, Greaves etc.,
In addition to the OEM segment, IPL continues to be a leading company in the domestic Replacement market. IPL products are the preferred choice of the most of the re-conditioners in India. IPL continues to make impressive strides in the export market and is among the top exporters of auto components in the country.
IPL and its subsidiary companies have posted a combined turnover of over $350 Million USD during 2015-2016 and is poised for an exponential growth.